Heather Tranen, Associate Director, University of Pennsylvania Career Services
LinkedIn: https://www.linkedin.com/in/heathertranen
With increasing attention on return on investment in higher education, it's no wonder that the pressure subsequently increases on career services professionals to deliver. As a result, career services becomes a more central point of discussion within the realm of student affairs.
My former colleague, Leah Lattimore, and I submitted a career services focused workshop for National Association of Student Personnel Administrators (NASPA) to explore the effective communication strategies that promote lifelong career development.
Luckily, our crawfish dreams were answered and our proposal was New Orleans-bound for NASPA 2015: Navigating Courage.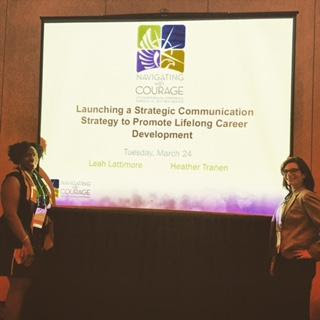 We felt excited about presenting on our topic to a different audience. What I did not expect to find was the plethora of other career-related sessions throughout the conference. I was able to learn more about data/assessment, the future of career services, the importance of early engagement, and recruitment trends. Sessions were also well attended by a cross-section of departments (housing, student activities, and alumni relations to name a few).  Undoubtedly, other student affairs professionals are recognizing career development as a high impact area of their field.
A few weeks later, I am now fully able to digest (literally and figuratively), the main takeaways from the conference as they relate to our work as career services practitioners. None of this information is surprising. However, it all provides interesting insight into where the industry is at the moment, and reminds us how to focus our work.
Data, data, data. As you might suspect, data and showcasing ROI through hard numbers was a hot topic. I don't mean to brag, but Penn collects data and showcases it in a way where it frames a story for its students (e.g. What can I do with my major, or Where are people with my major working geographically?). One question posed and potentially worth considering to include in your placement surveys would be, "Why didn't students use career services?" I enjoyed learning what offices at John Jay and FSU are doing during these discussions, and think it is worth thinking beyond just our placement statistics to explore how the data creates a story.
Customized, targeted services. Thought leaders from RIT, NYU, Stanford, and George Mason talked about the future of career services. The need for the core services with a targeted approach will only become an increasing pressure on us as career services professionals. Additionally, Georgia State discussed their targeted programming/niche career fairs. This was also a leading theme in our presentation.
Early engagement. Schools like UConn are offering credit-bearing First-Year Experience (FYE) courses. This definitely seems like an interesting way to tie career services to the academic enterprise and to put career services at the forefront of students' minds from the very beginning of their college experience.
Recruiting trends. Employers pursuing a "soft" recruiting approach by targeting candidates via social media and at career development events vs. the more traditional recruitment events (e.g. career fairs and information sessions) is also a trend schools are seeing.
That career services has become a central focus within higher education came when speaker Trudy Steinfeld addressed a standing-room only group. She said, "I presented at NASPA many years ago. Guess how many people were in my session? Six."
Trudy Steinfeld said to a standing room only group, "I presented at NASPA many years ago. Guess how many people were in my session? Six."
Now it's up to us as professionals in the field to continue delivering top-tier work, and to innovate ways that connect our students to the placement numbers society seeks and to the careers that lead them to fulfilling work.